This event is closed.
The Almighty Mud Run is proud to bring you the "All-Star Edition" of its famously fun 5K adventure run! Don't let the name scare you, we've designed the Fall event for EVERYONE! For the fun runner/walker, we have an all new course with 25+ crazy obstacles designed to give you the best time of your life! For the freaky fit, we've thrown in 10 additional obstacles to create our most insane All-Star Lane ever for the most challenging time of your life - not to mention bragging rights! Two options, one goal - to become an ALMIGHTY FINISHER! An absolutely incredible event for both participants and spectators!
100% of all proceeds go to help rescue orphans!



We retired five obstacles, built 5 ALL NEW ones, improved on all your favorites, and even added a wild card! This will be by far our most INSANELY FUN course yet!

| | | |
| --- | --- | --- |
| 1. Tickler | 10. Maze | 19. Mud Pit |
| 2. GBR Oil Rig | 11. NEW OBSTACLE | 20. Inverted Wall |
| 3. Polar Dip | 12. Tire Run | 21. Tire Falls |
| 4. Fire Jump | 13. NEW OBSTACLE | 22. Mud SLide |
| 5. Triple A-Frame | 14. NEW OBSTACLE | 23. Cargo Net Bridge |
| 6. Climbing Wall | 15. Gauntlet | 24. Sinking Bridge |
| 7. Bridge | 16. Mud Pit | 25. Contest Obstacle |
| 8. NEW OBSTACLE | 17. NEW OBSTACLE | CONGRATULATIONS |
| 9. Sidewinder | 18. Title Sponsor Obstacle | ALMIGHTY FINISHER! |
* No swimming required. Burpees can be performed in place of an obstacle
but we encourage you to try them all!

Price Valid:

Per Person:

Until midnight of Aug 1st (early bird special)

$39

Aug 2nd to Sep 30th

$49

Oct 1st - Oct 10th

Race Day - Oct 11th

$59

$65
***The Almighty Mud Run is a family event but that doesn't mean it's a walk in the park! For safety purposes, all children must be at least 12 years of age to race. Parents must sign an additional waiver on the day of the race for children under the age of 18. Children ages 12 through 15 can only run in the youth heat at 10:30 and the parent must run along side the child. Parent and child must both be registered to race. Children ages 12-15 must skip the floating obstacle course and the fire jump.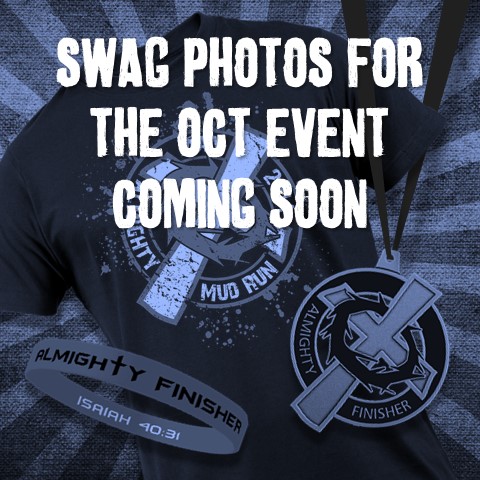 Every race participant receives an Almighty T-shirt, Wristband AND Finisher Medal!





Distance: 3 miles. Record time = 30:35 set by Nik Ramos
($1,000 prize to whoever breaks the record with the best time!)


Start Times: Starting at 8am, waves of 250 athletes will be released every 30 minutes across 6 heats starting with the Almighty Heat and ending with the Youth Heat.


What do I get?
Almighty Dry-fit t-shirt

Almighty Finisher medal

Almighty Finisher bracelet

Almighty Mud Run race bib

Live music & entertainment after the race

Pre-race snacks & post-race recovery drink

The opportunity to help rescue orphans!
Spectators: Playing in the mud just isn't your thing? No problem! Our course is wide open for spectators to roam freely over 90% of the course. Enjoy the music and concessions and watch your friends and loved ones slip and slide through the course in the safety and comfort of our festival grounds. With 25+ obstacles, you're never far from the action! And just because you're on the sidelines doesn't mean you can't have any fun... visit one of our spectator launch zones and target practice on the racers as they pass by with a variety of fun ammunition!

*Please leave your coolers at home, there will be concessions available at family friendly prices - feel free to bring your chairs though! The Almighty Mud Run is an alcohol and drug free zone. No pets please!

Check out our Facebook page for photos from last years event!

Got questions? Email us here!
Want to be a sponsor? Email us here!